Metering Oceanographic Research
The National Oceanography Centre, (NOC) has for the past five years used Carlo Gavazzi EM21 electricity meters to monitor and record energy consumption. The iconic waterfront site in Southampton has electrical metering in over 110 locations in addition to gas, water and heat metering.

"Monitoring equipment is essential to day-to-day energy management at the Centre and associated energy bill savings. Money that we don't spend on our energy bill is money we can redirect into our scientific research programmes".
---
Energy and Environment Manager, Candice Snelling, who uses the system every day 
Pulses from each meter connect to one of the 12 SHM Communications 24 channel data loggers, enabling the Centre's Energy and Environment Manager to monitor energy usage data at half hour intervals.
NOC Southampton, is part of the UK Natural Environment Research Council (NERC) facilities, and is also home to the School of Ocean and Earth Sciences of the University of Southampton. The 1500-room complex houses over 100 laboratories, cold stores, computer server areas and research aquaria.
Applications for the EM21s vary from conventional lighting and equipment circuits, providing evidence for the ongoing drive to meet energy reduction targets. The ability to quantify the cost benefits of, for example, replacing hand driers and installing motion sensing light switching is a powerful tool.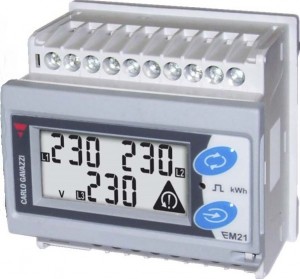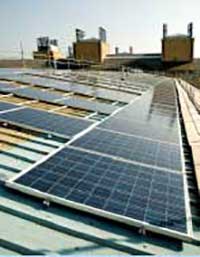 More unusual applications include metering two 600A ship to shore supplies for the NERC research vessels "RRS James Cook" and "RRS Discovery".
In 2011, NOC installed one the largest photovoltaic (PV) array in the city and SHM has used a pair of Carlo Gavazzi EM24 meters "back to back" to record the import – export functions. This provides invaluable data for tracking the performance of the PV array and detecting invertor faults.
The latest installations include sub metering for a new innovation Centre for automatous marine robotics, using EM21s with MID approval, and the electrical supplies to a high pressure pulse tube to be used for simulating deep sea pressures.
Peter Hutt, Managing Director of Winchester based SHM Communications Ltd said;
"I am really pleased to see our system continuously evolving as more applications are found for the electrical, gas, water and heat metering scheme we installed in 2009 in partnership with Stark Software."
SHM selected Carlo Gavazzi EM21 AV53X0SX meters for the initial retro-installation in 2009 for their compact footprint, ease of installation, connection & programming and their reliability – proved to be 100% over five years. Pulses from these are fed to one of the 12 SHM Communications 24-channel Data loggers networked on the site. Data from the loggers are collected with 30 minute resolution by the Stark Save Energy On-line Bureau, then made accessible to NERC over the Web.
Enquiries to:
Peter Hutt, C Eng MIET MA Cantab DIC BSi Lead Auditor ISO5001, Managing Director, SHM Communications Ltd, Valley House, 6 Winnall Valley Road, Winchester SO23 0LD UK
prhutt@shmcomms.co.uk
https://www.shmmetershop.co.uk
Candice Snelling MEnvSci MIEMA CEnv, Energy & Environment Manager, National Oceanography Centre, Southampton, University of Southampton Waterfront Campus, European Way, Southampton SO14 3ZH
c.snelling@noc.ac.uk
www.noc.ac.uk
Contact form
Click for contact form