XLeMs Software
XLeMs is a new software package for use with data loggers from SHM Communications.
Click here for a brochure. Click here for an online demonstration.
Features
XLeMs is a full-function energy monitoring system that presents results in Microsoft Excel format. By using the familiar Excel environment, it leverages the user's Excel skills to produce high quality reports and graphs. This means that the "learning curve" for XLeMs is very short.
Because XLeMs reports are Excel workbook files, reports and graphs can easily be incorporated into other Microsoft Office applications.
XLeMs collects data automatically from all types of SHM logger via serial port, modem or Ethernet as appropriate and stores the readings in its database.  It can also import data from files sent via FTP by Northern Design CubeIP meters.
You can specify which channels you want, the start and end dates and interval between readings and XLeMs will extract this data from the database and write to an Excel file.
You can produce a Template using Microsoft Excel that displays the data in the format you want (eg. charts, invoice etc.) and then it only takes a few clicks to run a report based on the Template for the range of data you require.  Reports can also be run automatically hourly, daily, weekly or monthly as appropriate.
The new (version 2.0.0) Instant Charting feature enables you to view Report data as a Chart (Bar, Line, Area or Point) without going via Excel.  It only takes two clicks to copy and paste the Chart into any Office document :-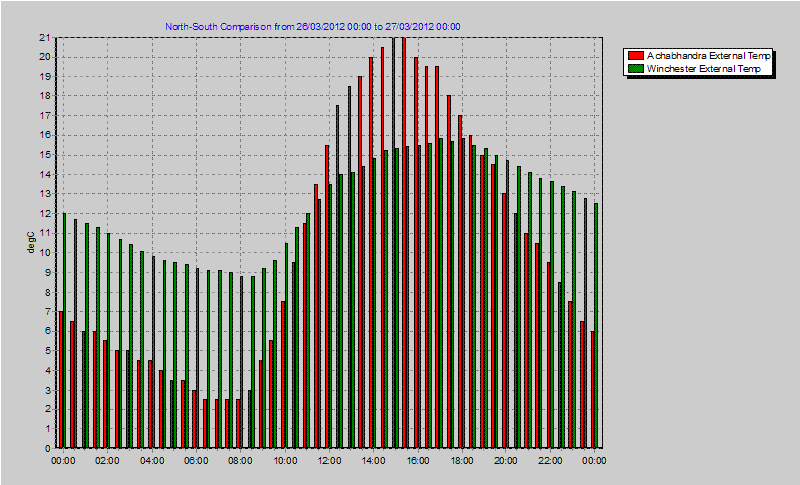 XLeMs can collect data from SHM UL-series loggers, devices supporting the oBIX protocol (SHM J-Loggers) and various formats of CSV file.
XLeMs can now act as an oBIX Server for historic data to allow reading of all data in the Readings Database.
XLeMs can act as a Collection Engine for collecting data from all types of SHM Logger and other devices and allow other systems to access this data via either FTP Push or oBIX.  An Application Note shows how to do this.
Summary
Uses a relational database to store readings and system configuration
Easy to configure
Reports are generated as standard Excel workbook files
Data functions include Absolute reading, Reading difference, Minimum, Maximum, Average, Half- hour MD
Simple user interface to browse configuration and data readings
Schedule actions (eg. Collect Data, Run Report) at hourly, daily, weekly, monthly or yearly frequency
Automatic sending of Reports via Email as attachments
Automatic exporting of charts in your Reports as GIF files to your website
Automatic exporting of Reports via FTP to a server
Automatic Emailing of Alarm Reports if an alarm condition is detected
Special Reports to facilitate invoicing/billing
Built-in "Quick Reports" to view data for any channel in various formats
CSV format reports to export data to other applications
User-definable Constants Table to provide an easy method for updating fields in multiple reports
Configurable Date Offset on each channel to facilitate comparisons with previous data
Improved Channel Headings with dynamic parameters
Instant Charting of Report data or raw Channel data.
Collects historic data from any device supporting the oBIX protocol.
Acts as an oBIX Server for historic data.