SHM is partnered with Measure My Energy

Showing you when and where you spend money on energy
Measure, monitor and manage your energy with a user-friendly, web based portal that will help to reduce your utility costs and carbon footprint.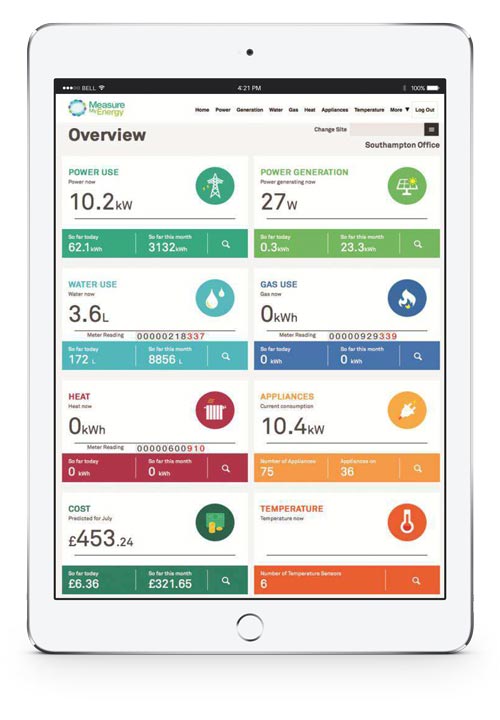 Multi-site, multi-user, multi-device
What We Do
The MeasureMyEnergy cloud based Global Energy Management (GEM) portal allows you to see in detail, as though on an itemised bill in pounds and pence, when and where you are spending money on energy in real time. This enables you to make informed decisions and savings, immediately.
We don't tell you what you already know – we tell you what you should know.
MeasureMyEnergy allows you to see an exact breakdown of your energy usage. At building, floor, circuit down to device/appliance level. Recording data faster than any other energy monitoring company, every six seconds, means you never miss a thing.
MeasureMyEnergy is an all-encompassing energy monitoring solution for any business. We measure any utility usage giving the most detailed real-time readings in the industry.
In short we help you to understand where your money is being spent.
And then we show you how to save it.
Our platform enables you to drill down and look at specific circuit groups or appliances and compare historical periods. That information allows you to optimise energy usage and make dramatic savings. Simple.
What do we monitor?
Anyone can meter the mains power, water or oil. But we do it differently. We show you the energy consumption for every utility, at every minute of the day. And back to the first second you started the service. We do this at a building, sub-meter or circuit level.
We measure both electricity consumption and generation including Solar PV, Wind and Hydro, and we can pretty much guarantee that we give more detail than anyone else in the industry.
The Platform
Our cloud based GEM portal gives you real time visibility of your energy and utility activity in real time, across multi sites, on multiple devices, right down to individual appliance level. Has someone been leaving the lights on or the tap running? We give you the tools to investigate! Compare data across sites and appliances and easily spot opportunities for cutting unnecessary energy use.
We start at the 'big picture'. A clear, customisable dashboard giving you the headlines with all your energy and utilities in one place. With automatically updated projections you can see your predicted costs for the next period and estimate your CO2 generation.
View usage by month, week or day. Move through the minutes with consumption and cost at your fingertips. Add appliances into groups such as lighting or heating. Split usage into working and non-working hours and see the non-productive energy you consume. It's completely flexible.
With advanced energy rating the costs will be based on your actual energy tariffs, including all peak and off-peak rates and other bands and fixed charges. Use this knowledge to make informed decisions on new energy technologies and with accurate ROI analysis.
But the real power is that it is not just you. The intuitive portal can be made available to anyone. We shape your data into something that is easy for everyone to understand and with multi-user access there doesn't have to be just one energy champion in the workplace!
The Hardware
Electrical power consumption is usually the largest utility cost for any organisation. It is also the one with the greatest potential for energy reduction and cost saving. However to do this you do need to get to the detail.
Here at MeasureMyEnergy, we develop all of our own software and hardware in-house. The Power Distribution Monitor (PDM) is the core of our business. It's a hardworking piece of kit transmitting readings to the GEM portal every six seconds.
Current transformers are connected to individual circuits within your distribution board which enables the PDM to take continuous, accurate energy readings and transmit them to the GEM Portal in real time.
Where the electrical infrastructure includes existing sub-metering the PDM may be used to read the energy data directly from the meters using industry-standard interfaces and protocols.
Our high specification PDM can measure from tens of circuits to thousands of circuits within a building. We measure every circuit simultaneously and take continuous energy readings and transmit this data to our cloud platform every six seconds where it is instantly available. It's the equivalent of having 36 electricity meters streaming live, within the physical space of two. See, we like space saving too!
The PDM does not transmit any customer, site or circuit specific information that could be used to identify the location or the activity within a given building. In addition, all communications between the PDM and the cloud platform are encrypted as well as digitally signed for authenticity, guaranteeing total security. Your data stays securely yours.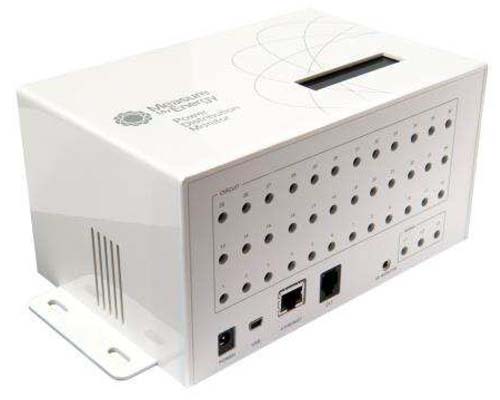 Features:
12, 24, or 36 Way
Mains AC Voltage Monitoring
Mains Power Import/Export
High circuit density to 35 ports per system
Single or Three-Phase Systems
10/100 Ethernet Port
LCD Status Display
Expansion Port for Additional Sensors
Configuration Interface
Upgradeable to support heavier loads up to 5000A, without
the need for additional metering equipment
So you've purchased it. What happens next?
You can leave it up to us to install, or use an electrician of your own. The decision is yours.
Installation is remarkably quick, requiring no changes to your electrical system and no need to power down. Completed during office hours, if necessary, the installation needs only to be connected to your distribution board and connected with CT clamps.
Installation time is typically within 1-2 hours, dependant on the environment and the number of circuits you wish to monitor. The installation is non-invasive and usually does not require powering off of the distribution board.
The overall solution has been designed to minimise installation time and reduce the need for return site maintenance visits.